About Me
Edit
Hi there! I'm just a 17-year-old, Christian girl who is insanely obsessed with Bleach (so wonderful), Keeper of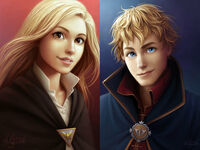 the Lost Cities, Teenage Mutant Ninja Turtles, and tobyMac! I love to chat, so feel free to drop by (almost) any time. Also, I am 100% Team Foster-Keefe (although I have plenty of other ships in this series), but don't worry, I don't plan on bashing other's ships. That being said, I get really pissed when others bash mine.
Please keep your ship to your own page. Please and thank you!
Also, before I forget: I am the Queen of the Universe.
Other Accounts
Edit
Howrse: ✦ ʙᴏᴏʏᴀᴋᴀsʜᴀ ✦
Fantage: distantsparkle10
Webkinz: WONDERGIRL1001
Fanfiction: The Glittery Ninja Espada
Wattpad: -Booyakasha-
Bleach Brave Souls ID: 44 861 674
Instagram: becca_m1624
My Keeper of the Lost Cities OTPs
Edit
Biana and Dex/Tam
Marella and Jensi
My Favorite Pages
Edit
Community content is available under
CC-BY-SA
unless otherwise noted.