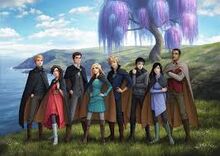 This is your user page. Please edit this page to tell the community about yourself!
My favorite pages
My favorite characters
Fitzroy Avery Vacker: KOTLC (I may or may not have a secret crush on a fictional book character)
Sophie Foster: KOTLC (DUH!)
Romhilda aka Ro: KOTLC (She's funny and sassy. I LOVE THIS GIRL!)
Biana Vacker: KOTLC (How could you not like Bi? She's beautiful and awesome! I can't help myself, so I have to say: Biana is amazing! I love her as a sister. I don't care that she's fictional!)
Della Vacker: KOTLC (I love how she's so caring and protective! No one can resist feeling like Della is thier mom, not even the amazing Sophie Foster!)
Keefe Sencen: KOTLC (How could you not like him? He's awesome!)
Dexter Alvin Dizznee: KOTLC (Dex doesn't get enough appreciation. HE'S SO COOL! I LOVE HIS GADGETS AND STUFF!)
Linh Song: KOTLC (LINH IS A PUFF! SHE IS IMPOSSIBLE TO NOT LIKE!)
Tam Song: KOTLC (I like how Tam evolves as a person, turning intoa slightly more caring, more open person than before)
I going to add so many more later!!!! JUST YOU WAIT!
My favorite books: READ THEM!
Every Keeper Of The Lost Cities Book EVER!
Percy Jackson, Heroes of Olympus, Trials of Apollo, Magnus Chase: ALL BOOKS
Renegades: BOTH BOOKS!!
Harry Potter: I LOVED THEM ALL! If you haven't read this entire series yet, I am disappointed!
I going to add so many more later!!!! JUST YOU WAIT!
Community content is available under
CC-BY-SA
unless otherwise noted.