Hey I'm RoKnows, welcome to my profile.

18:42, December 3, 2019 (UTC)RoKnows the Breathtaking (talk)
Want exclusive, hard-to-access KOTLC exclusive content?? Edit
Finally! A website that has a complete archive of all exclusive short stories released! Previews of Legacy! Updates on everything KOTLC related! How to get free "swaggish goodies"! Fun facts about Shannon Messenger! AND MORE.
Go to Keeper of the Lost Cities News Fanbase
Fan Fictions! Edit
The Stars Are My Home
Check out RoKnow's NEWEST FAN FICTION
It's about one of the most mysterious Neverseen members' backstory… and love story.
Check out what people are saying about it:
"I am absolutely in love! This is so good, and I am so excited to read another amazing [fan] fic by [RoKnows]!" - Mallowmelt
"Breathtaking by nature… this thrilling history of a misunderstood character touches the hearts of all who read it." - Light and Bright
---
The Promise Against the Fire
What if Kenric survived? What if he didn't die in the Everblaze? Would Kenric and Oralie ever admit their love for each other?

Check out what people are saying about it:
"…In all honesty, this fanfic is written beautifully. I can feel the characters' emotions coming off the screen and the detail is amazing. simply great, I tell you." - Rizi213
"WOAH, that was amazing. I don't read too many fanfictions anymore, but this one definitely caught my eye. And once I started reading it...it really blew me away. Wonderful job!" - HadesAlpha1629
"I love the way you wrote this, and the fact that maybe, just maybe, Kenric survived in in the real book. It gives me hope. Thank you so much for writing this. I truly love it to the stars and beyond!" - BookBeliefs
and much more!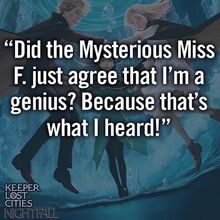 About Me on Keeper of the Lost Cities Edit
I ship Keefoster HARD.
I've read the whole series twice, but only Flashback once (so far)
My favorites, in order:

Legacy (8)
Nightfall (6)
Neverseen (4)
Everblaze (3)
Lodestar (5)
Keeper of the Lost Cities (1)
Exile (2)
Flashback (7)
Random Facts (About Me) Edit
I'm working on writing a novel right now and publishing it for you guys to see!! I've been working on it for over 3 years.
I'm homeschooled.
I have 1 dog, and I used to have 2 parakeets, but…
I'm a Huffleclaw
I LOOOVE Hot sauce, and I seriously can't have eggs without a giant dumping of it. My favorite brand is RedHot.
I am right-handed… which is normal…
Favorite Exclamations: "Shoot muffins!"… and there's more but I can't think of them XD
My Favorites Edit
Favorite Color: Purple/Violet (has always been and always will be)
Favorite Activity: WRITING, Reading, Graphic Designing, Talking
Favorite Animals: PANDAS!!
Favorite Sports: Baseball (or Softball), GaGa Ball
My Ships Edit
KEEFOSTER!!! Woot!
Sizel (Grizel + Sandor)
Oralic (Oralie + Kenric)
Percabeth (Duh!)
Adrianette
Harry + Ginny (Ship name??)
Mahfina (Serafina + Mahdi, WaterFire Saga)
Fav Books & Fandoms Edit
Keeper of the Lost Cities (By Shannon Messenger)
Harry Potter (You know who's this is by: J.K Rowling)
Percy Jackson (By Rick Riordan)
WaterFire Saga (By Jennifer Donnelly)
Wingfeather Saga (By Andrew Peterson)
The Selection (By Kiera Cass)
Marvel
Miraculous Ladybug
Star Wars
Ravenspire Novels (by C.J Redwine)
Warrior Cats (By Erin Hunter [who is like, seven people by the way.]). I've read this series twice, and since there's like, fifty books in the series, that's saying A LOT. (But my sister has actually read it four times…so…)
The Pages I've Made On KOTLC Wiki (So Far) Edit
My Favorite Characters in KOTLC Edit
(In order)
Keefe
Ro
Grizel
Sophie
My Favorite Pages on the KOTLC Wiki & KOTLC fun wiki Edit
Community content is available under
CC-BY-SA
unless otherwise noted.