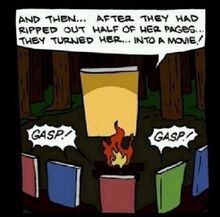 Hey, you! Yeah, you! Thanks for checking out my profile! (But please keep in mind that you won't find anything interesting. I just realized that my life's pretty boring.)
So, anyway, more about me!
I am actually just a crazy fangirl that is super passionate about the stuff I read. I can't draw, but I'm very good at writing and love to sing and act. I'm also a proud Canadian and Muslim, and super friendly. I work hard for every A I get on my report card and have a special place in my heart for everything that's sweet. (And sprinkles. One must never forget that true happiness lies in sprinkles.)
MY FAVOURITE SERIESEdit
Anything written by Rick Riordan (If you haven't read one of his books, WHAT ARE YOU DOING WITH LIFE?)
Harry Potter (I retook the test and got Ravenclaw, in case you were wondering. Also, my Patronus is a hyena and my wand is a 13" Hazelwood with a Phoenix core.)
Pennyroyal Academy (I'm still waiting for proper closure, Mr. Larson. I need to say a better goodbye to my babies.)
Keeper of the Lost Cities (I swear, Mrs. Shannon and Mr. Riordan have met up and planned ways to torture us with their awful cliffhangers. But seriously, this is one of THE best series I've ever read.)
The Selection (One of my all-time favourite YA books.)
The Caraval Series (This is the best YA book series ever created in the entire world. I'm not exaggerating. At all.)
The Folk of the Air (Holly Black has done it again. I love all her books, but this series is my favourite by far.)
I have many more, I'm just to lazy too write them all.
MY FAVOURITE SHIPSEdit
*Please be prepared for ultimate fangirling*
TamxBiana (They balance each other perfectly. One sweet, one salty. One light and one dark. Literally.)
LinhxWylie (They are just SOOO cute together!)
PercyxAnnabeth (This one is a no-brainer. Seriously, anyone who doesn't ship them doesn't know anything about life.)
JasonxPiper (Since that moment on the bus, those two are each other's soulmates. Okay, maybe I shouldn't go that deep, but come on. UPDATE: I AM CURRENTLY SOOO MAD AT RICK RIORDAN. HE NEEDS TO HAVE SOME SENSE WHACKED INTO HIM. HOW DARE HE? HOW DARE HE?!)
RemingtonxEvie (Like I said, I need a proper closure for these two, Mr. Larson.)
DemetraxBasil ( I TOTALLY KNEW THEY LIKED EACH OTHER!)
AWESOME PEOPLE HERE Edit
EVERYONE HERE IS MY FRIEND. YOU ARE ALL SO AWESOME!
RANDOM FACTSEdit
My favourite colour is sunset red
I have a crazy addiction to reading
I have three VERY annoying siblings  
I'm afraid of butterflies (Let's just say that I will 

never

 look at insects under a microscope 

ever

 again...)
I play the flute
I speak French (albeit not that fluently...)
I'm a Mediator
I hate it when something is not in its proper place
I'm always complimented on my writing skills
My favourite subjects are language art and history
I tend to come off as a quiet, too-nice-for-her-own-good kind of person
I HATE it when an author kills off a character I like (I'm looking at you, Rick Riordan)
I'm super passionate about the stuff I love, and when someone insults it, I become super defensive about it (such as reading)
I want to become an engineer, doctor, scientist, and/or author when I grow up
The universities of my choice are a) Harvard University b) Oxford University or c) University of Toronto
I love acting
I suck at all sports (except running. And fencing. And archery.)
I'm in Athena's cabin
Since you made it so far, and haven't got annoyed by my rambling, I will end my personal story by sharing my favourite quote:
"When it rains, look for rainbows. When it's night, look for stars."
Another quote I like:
"Stars can't shine without darkness."
"You will all triumph within the time of darkness if you remember to light the lamp of hope. "
~Me
Community content is available under
CC-BY-SA
unless otherwise noted.