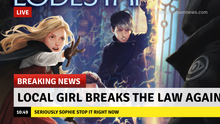 My favorite pages(they're vying for first place)
Edit
This wiki(obviously)
Storm and Silence wiki
Wings of Fire wiki
Wattpad
My favorite characters
Edit
Sophie Foster
Oralie
Mr. Forkle
Fitz Vacker(he's so precious)
My favorite books
Edit
The entire Redwall series
The entire KOTLC series
Wings of Fire
Let the Sky Fall
Let the Storm Break
Let the Wind Rise
The Lunar Chronicles
...And a bunch more that I forgot
for Shannon to have the chance to COME TO CANADA for ONCE. You have a LOT of dedicated readers here, Shannon!
Fun Fact:
Edit
NO ONE COMMENTED ON FITZ'S PAGE UNTIL NEVERSEEN.
THE FIRST COMMENT WAS,
I WILL NOT ALLOW LINH TO GET FITZ.
YEP, NO ONE COMMENTED UNTIL NEVERSEEN.
HOW.
Community content is available under
CC-BY-SA
unless otherwise noted.