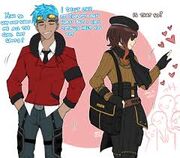 About Me
Edit
Hi! Here are a few fun facts about me: (OMG THE PICTURE TO THE RIGHT) (thats Keefe)
I WORSHIP KEEFE
I WORSHIP KOTLC
I WORSHIP Harry Potter
I love country music
I WORSHIP Imagine Dragons
I can be VERY overeager
I am a true romantic
I do/love synchronized swimming (My team is Carolina Synchro)
I play the flute, the piano, and the acoustic guitar
I am a very weird duck
I am very loyal to all my besties and very defensive
My favorite color is royal blue
I am a teenager (warning XD)
I love to read/write stories
I love to draw
I love to design/create clothes
I love to dance
I am straight (I prefer the gents)
I am TAKEN!!! (aka i have a bf)
My close friends on this Fandom
Edit
I do not want to exclude anyone, these are just the people I talk to the most. If you would like to be added to this list, please let me know!!!
Bluejayflyingfree
CherryRipplepuffs
SoKeefeFoster
Berlynn.the.Pyrokinetic
Look What Dex Did!
Fandom Users- Ashoka, NinjaTeddyBear, and Neveah B
Ilovebooksandfood
ItzRubidiummm
Panakes Pancakes
Diathe13
Nicknames
Edit
My nicknames are Megalomania (or just mega), licky, stale bread, MooMoo, Dinky, Bunny, or Keefester. Or you can create your own nickname for me. Just make it appropriate, and kind!
My favorite pages
Edit
Sokeefe Petition
Team Foster Keefe Fanfic
Strange Ducks
Bring Back our Dexy Petition
Roleplay (open)
Petition to Yeet Fitz off a cliff
My favorite characters
Edit
Keefe
My favorite books
Edit
All KOTLC books
Harry Potter
Wings of Fire
The Girl who Drank the Moon
I am Number 4 series
Maze Runner series
School of Good and Evil series
The Books of Elsewhere series
Any scary story
Community content is available under
CC-BY-SA
unless otherwise noted.