INACTIVE UNTIL SUMMER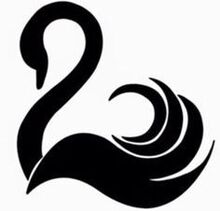 "When she didn't answer, he took both of her hands, and she couldn't ignore the rush of warmth that tingled through her when she met his eyes.
There was no teasing glint to be found. Just pure determination when he told her, 'Because Team Foster-Keefe is going to win.'''
- Nightfall, page 140
-
"How frustrating, and so degrading
His time, we're wasting
As time will fly by and the sky will cry as light is fading
And he is waiting, oh so patiently
While we repeat the same routine as we will please comfortability
Please think about why you can't sleep in the evening
And please don't be afraid of what your soul is really thinking
Your soul knows good and evil, your soul knows both sides
And it's time you pick your battle, and I promise you this is mine."
-Tyler Joseph, Isle of Flightless Birds
-
"I'm not scared
Of laying my head in the grave to rest
I'm just scared
Of wasting my last breath."
-Leaving Cardboard Houses, Empty
-----------------------Joined November 16th, 2018----------------------------
Hey guys! Um, I'm not sure what I should say, but here are a few things about me...
(Feel free to chat on my message wall! I ADORE debates and theories, and I love book recommendations too!)
-First and most importantly, I'm a Christian. I believe in Jesus Christ and that he's God's Son, who took away every one of my failures when he died on the cross for us, and that I am renewed, not by my own power, but by His grace. For more of what I believe, scroll down to the bottom of the page.
-I'm homeschooled (And I LOVE it)
-
Team Foster-Keefe
is my obsession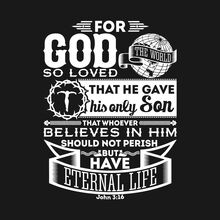 -I ship
Keefoster,
Bam, and Lylie
- and obviously
Kenralie
*cries*
-I love good-natured theorizing and debating. I'm an arguer :)
-I want to be an author and possibly lawyer
-My friend and I are writing a book. We're seriously into it, we've been working on it for two years, mostly during the summer, and hope it's going to make it to you all someday :)
-I discovered keeper when I was 10 (now 14), and have gotten most of my best friends obsessed too
-I love MBTI, and I'm ENTJ/P (it's 50-50!! I know, weird!)
-I'm SLYTHERINNNNNNNN
-My favorite series are Keeper of the Lost Cities by Shannon Messenger (as you know) and The WingFeather Saga by Andrew Peterson
-Other series I like and/or grew up adoring are Percy Jackson, Harry Potter, the Unwanteds, the Testing series, C.J. Redwine's books, Heroes of Olympus, the Lunar Chronicles, and more
-My favorite keeper book is Neverseen. It was definitely a game changer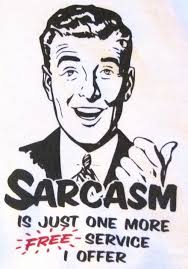 -I take
ballroom dancing lessons
with my friends
-I have a Parakeet named Kalmar!! He's very stubborn but adorable. Anyone else have birds?
-Go listen to this band I discovered, that I really want to help support. They're awesome- [1]
-I'm afraid of three things-
SHARKS (meep), the ocean, and alligators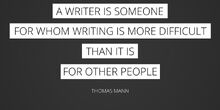 -Funfact: I've met Shannon Messenger, and it was at a small book store so I got to talk to her for longer than most. It was for Nightfall signings. My mom told her about my book, too!
-Another funfact- The way I sign my name looks like a swan. My friend pointed it out to me one day when I had been signing my name that way for years, and I was like WHOA
----------------------------------------------------------------------------------------
I'm part of the Homeschooled Keeper Club (we're still looking for a good name!). Feel free to join, the requirements are you must have been homeschooled at some point in your life and enjoyed it. Just message me or @KaleTheEmpath if you'd like to join, and add it to your profile. (@KaleTheEmpath, let me know if that's ok!)
Members:
BlackSwanSRM (co-founder) (me)
KaleTheEmpath (co-founder)
MyPersonalityIsBooks
TheMysteriousMissX
Some1New
JuliaBookworm14
Hermionegenius
Crystal (a Fandom User)
Roriannatechnopath
Bluejayflyingfree
Aridflower
I'm also part of the Obsessive Analysis club!! Contact @EthanDaCryokinetic or @SuldreenSong to join!
Members:
TheMiraculousKeeper
CCowTheHydrokinetic
BookBeliefs
EthanDaCryokinetic
SuldreenSong
Z-FunWithBooks
Charlotte O Cats KOTLC
BlackSwanSRM
This picture- - - - - - - - - - - - - - - - -> - - - - - -> - - - - - - -> - - - - - - >
is an art I found that remind me of me. It looks a lot like I'd imagine I look like sitting on a bench, looking at my cellphone. On the wiki, often times no one has any clue what anyone looks like, so when you think of me just picture this vague picture.
------------------------------------------------Other random obsessions--------------------------------------------------
Twenty One Pilots
The Wingfeather Saga
Lost In Space
Miraculous Ladybug (this obsession is new, no spoilers!)
The Harry Potter books and movies
The Silver Eye (Laura Hollingsworth's webcomic)
A Series of Unfortunate Events (Netflix Show- I haven't read the books, but I plan to!)
Marvel

Star Wars
Hamilton
Archaeology
Theology
Parakeets (I have one)
Mock Trials
Writing
Blimey Cow
Studio C
Pencil Sketching
Guitar
Ukulele
ETC....
---------------------------------------------------Unpopular opinions---------------------------------------------------------
-It's sad that this is an unpopular opinion, but I loved the Last Jedi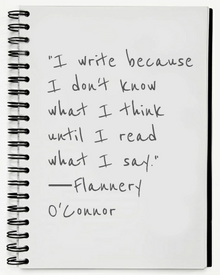 -
Chocolate is overrated. It tastes disgustingly bitter to me.
-HOMESCHOOLERS ARE NOT ANTISOCIAL
-Reylo!!
-The Hunger Games wasn't that great. You should read the Testing, it's way better
-Kai (Lunar Chronicles) was annoying
-Kaider...meh
-Slytherin is wonderful
...Yeah I'm not very original
-------------------------------------
Popular Opinions! (Really, just plain opinions)
------------------------------------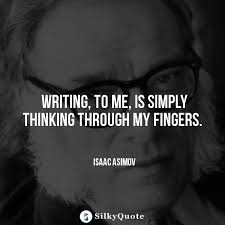 -Infinity Wars was amazing
-Team Foster-Keeefeeeee
-Math sucks
-Christmas is the best
--------------------------------------
Ships
------------------------------------------
Keefoster
Percabeth
Tiana
...Whatever the ship name for Ginny and Harry is (???)
Reylo (don't hate me)
Skylex
Kenralie
Adrienette
Jarah (Wingfeather Saga)
Wolflet
Thorness
Jacinter
Ikesley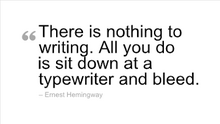 Mattory
----------------------------------------------------------------------------------------
My First Fan-fiction (Written with one of my best friends):
Link- [2]
My First Fanart- (sorry it's so blurry)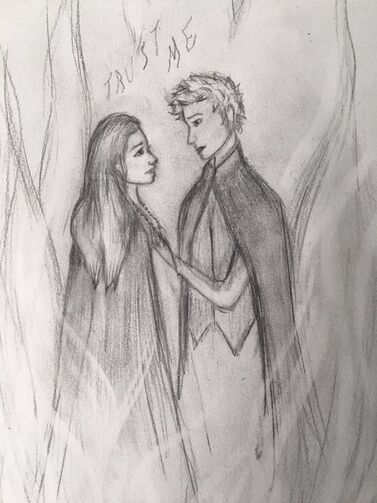 -----------------What I believe---------------------
I'm a Christian, I believe in Jesus Christ and that he's God's Son, who took away every one of my failures when he died on the cross for us, and that I am renewed, not by my own power, but by His grace.
I believe that he gave all people the opportunity to become his children, and that NO ONE is excluded. I believe we are save by faith, not by what we do- all we have to do to become saved is to believe in him. But when we believe in him, we must repent of what we've done wrong. We must not continue living the wrong way, but live how he says, because we believe in him and that what he says is true. We should want to change, when we recognize our wrongs. But I also believe we are human, and we WILL fail, time and time again. But I also believe in God's unfailing love and faithfulness, and that he is faithful and just to forgive. No matter how many times we mess up, or deny him, or do wrong, or run away, he will ALWAYS be waiting for us. I can't do justice to describe how amazing it is, but I know it's true and it gives me purpose- to know that I am love NO MATTER WHAT I do or think or say, that someone would love me enough to die for me, and that as long as I believe that he's there and he has taken away my sin, there's nothing in this world that can separate me from his love.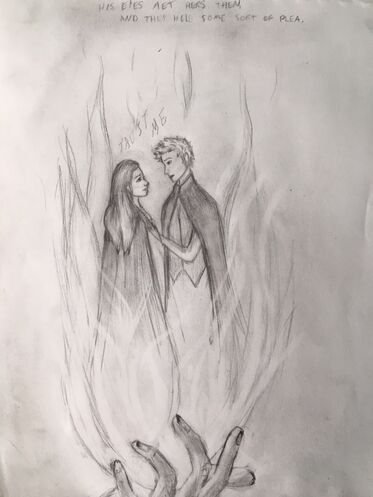 (Wow, that got long. And deep. But that's what I believe, and I'm always willing to explain it to anyone if they would like :)
I believe that Jesus calls us to love all people, no matter how rich or poor or weak or strong or mean or shunned or disrespectful or how many times they've failed... He calls us to "love your neighbor as yourself". Neighbor = anyone we come in contact with. Jesus showed that throughout his life, reaching out to the outcasts and the well-to-do, the ones thought of as ordinary and thought of as extraordinary. They young and the old, and those who society hated. And so, I want to do the same. No matter what.
I believe that LGBTQ+ is wrong, and that marriage is for a man and a woman. But that doesn't mean I don't love members of LGBTQ+- I don't agree with it, but I will love them just the same. Please never feel like I hate you, or won't speak to you, or will bash you... I won't. I will tell the truth that I don't agree with your lifestyle, but I will always be a friend.
I am pro life. I believe that killing is wrong, no matter what age the baby is. I believe that abortion is killing, because regardless of what age it is when it dies, the baby (or fetus) was always going to keep growing, or die of natural causes. It is alive. It always has more life ahead of it, no matter how short it's life may be. It's robbing someone, a person, of the opportunity to EVER feel or see or breathe or laugh or smile, or even to cry or hurt.
But remember, I believe that God will always, ALWAYS forgive. Nothing is out of his power to forgive- when we say he can't forgive us because of what we've done, we are doubting His ability. It's not up to us, it's up to him and if we seek him, he will always love and forgive us. ALWAYS.
Romans 5:8 (NIV) But God demonstrates his own love for us in this: While we were still sinners, Christ died for us.
1 John 4:9-10 NIV  This is how God showed his love among us: He sent his one and only Son into the world that we might live through him. This is love: not that we loved God, but that he loved us and sent his Son as an atoning sacrifice for our sins.
John 3:16 NIV For God so loved the world that he gave his one and only Son, that whoever believes in him shall not perish but have eternal life.
Romans 10:9 NIV If you declare with your mouth, "Jesus is Lord," and believe in your heart that God raised him from the dead, you will be saved.
Micah 7:17-18 NIV Who is a God like you, who pardons sin and forgives the transgression     of the remnant of his inheritance? You do not stay angry forever but delight to show mercy. You will again have compassion on us; you will tread our sins underfoot and hurl all our iniquities into the depths of the sea.
Romans 8:1 ESV There is therefore now no condemnation for those who are in Christ Jesus.
Psalms 103:12 NLT He has removed our sins as far from us as the east is from the west.
1 Corinthians 13:4-7 Love is patient and kind; love does not envy or boast; it is not arrogant or rude. It does not insist on its own way; it is not irritable or resentful; it does not rejoice at wrongdoing, but rejoices with the truth. Love bears all things, believes all things, hopes all things, endures all things.
Isaiah 53:5 ESV But he was wounded for our transgressions; he was crushed for our iniquities; upon him was the chastisement that brought us peace, and with his stripes we are healed.
1 John 1:9 ESV If we confess our sins, he is faithful and just to forgive us our sins and to cleanse us from all unrighteousness.
Romans 3:23 For all have sinned, and come short of the glory of God …
Romans 6:23 For the wages of sin is death; but the gift of God is eternal life through Jesus Christ our Lord.
My favorite pages
Edit
Community content is available under
CC-BY-SA
unless otherwise noted.