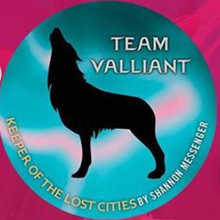 Team
Valiant
has been mentioned only on
Shannon Messenger's
Instagram, where a picture of what seems to be a Team Valiant badge has been posted. The badge has an image of a wolf howling on a teal-and-pink-and-white background.
Shannon Messenger
noted that "the 'Team Valiant' patch will make a lot more sense once you read
LEGACY
!" The badge bears similarities to the
Song
badge, which has two wolves rearing their heads back on it. At the Legacy events, where you meat Shannon Messenger you can get a Team Valiant patch.