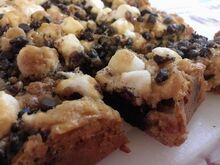 "Mallowmelt always makes a difficult conversation easier."
—Alden Vacker, in Book 6: Nightfall


Mallowmelt is a gooey treat that tastes like "fresh-baked chocolate-chip cookies soaked in ice cream and covered in frosting and butterscotch."
Throughout the books, this delicious treat was served many times during serious meetings or just a simple conversation.
When Sophie talked with Amy Rose Foster (during Book 6: Nightfall) her sister steals all the gooey treats, surprised by how delicious it is. Sophie had similar reactions during her first encounter with mallowmelt and also said it was probably the best thing she had ever eaten.
In Flashback, it is noted that even Sophie's bodyguard Bo enjoyed it.
Community content is available under
CC-BY-SA
unless otherwise noted.