Physic/Livvy is the physician of the Black Swan. In Nightfall, she is revealed to be Livvy, Quinlin Sonden's wife. She and Quinlin have an unstable relationship and fight often. They show signs of such in front of Sophie, Amy, and Sophie's friends in Nightfall. Livvy and Quinlin don't want to file a match fail, the elves' version of a divorce, due to the social stigma that comes with it, so they're still considered to be married.
When Sophie was nine, her inflicting triggered during an argument with Amy and she accidentally inflicted on her sister. Mr. Forkle and Livvy tried to stop Sophie; to un-trigger her inflicting they gave her limbium. Sophie had an allergic reaction and had to be rushed to the nearest human hospital. The incident was wiped from both Sophie's and Amy's minds. After the accident, Livvy resigned from the Collective and gave her place to Juline Dizznee. When Amy meets Livvy in Nightfall, Amy vaguely remembers her despite the memory being erased; the memory is returned to both sisters in Legacy.
When working for the Black Swan, Physic frequently wears a Mardi-Gras-style mask to conceal her appearance.
She has dark skin, tiny, sparkly jewels woven into her hair, full lips, and a softly rounded nose.
One of Physic's masks is Mardi-Gras-style and red, with a rim of gold glitter. She has also been known to wear a purple mask decorated with black swans.
Quinlin wants her to file a match fail, and their relationship is very rocky.
AMY (former unofficially adopted daughter)
Amy stayed in Quinlin's apartment in Atlantis during the events in the book Nightfall, where Livvy helped take care of her. Livvy also gave Amy Mood Candy when Sophie went to the hospital after Inflicting for the first time.
ELWIN (Doctor who works with her on occasion)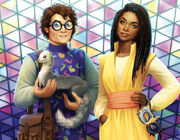 In Flashback, Elwin and Livvy worked together to help Sophie and Fitz heal after they were attacked by Umber. Elwin also assisted Livvy the second time Sophie's abilities were reset, in Legacy.
When physicians in the Lost Cities were being rude to Juline after she gave birth to triplets, Juline went to find more open-minded physicians and ended up meeting Livvy. Livvy later recruited Juline for the Black Swan.
Livvy was a part of Project Moonlark. She gave Sophie limbium in the Forbidden Cities to halt Sophie's allergic reaction, and has healed Sophie at various points throughout the series, such as when she helped Sophie recover from the echoes and hand injuries in Flashback. Livvy reset Sophie's abilities in Legacy.

Livvy thinks that Prattles are delicious and stores lots of candy in the apartment.
She keeps a running list of the top ten grossest things she's ever done.
She's the only other mentioned-by-name physician in the series; the other one is Elwin.
In Latin, Livvy means "olive tree".
"Sparkles do make everything better. And Mood Candy is delicious." - Livvy in Book 6: Nightfall
"Candy is essential." - Livvy in Book 6: Nightfall
"No one should be held accountable for their Ancestor's mistakes, as long as they learn from them." - Livvy in Book 6: Nightfall
"I know you feel hesitant to rely on us. But we are here for anything you need. You don't have to put on a brave face or pretend everything is okay, becuase its not. If you just want to talk, laugh, cry, eat junk food till you're sick, or all of the above, just say it. Or if you'd rather we leave you alone so you can snuggle with with your stuffed animal that's fine too." - Livvy to Sophie and Amy in Book 6: Nightfall

Community content is available under
CC-BY-SA
unless otherwise noted.