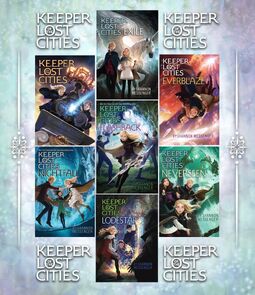 Keeper of the Lost Cities is a book series written by Shannon Messenger that currently consists of ten books, named in the order of the following: Keeper of the Lost Cities, Exile, Everblaze, Neverseen, Lodestar, Nightfall, Flashback, Legacy, Unlocked, and Stellarlune.[1] It is published in various languages, including but not limited to: English, French, Russian, and Spanish. In Czech and Polish language there are five books. There is also a UK version of each book.
In January of 2021, a movie adaptation of the series was announced. It will be directed by Ben Affleck. The release date for it hasn't been announced yet, and further details have yet to be released.
Starting in 2012, most books have come out each year in November. Book 8.5: Unlocked was published on November 17, 2020. Book 9: Stellarlune will be released November 8, 2022, and Shannon Messenger has confirmed that there will be a 10th book, which will be the last in the series. The books are generally released sometime in autumn for the Northern Hemisphere, or spring in the Southern Hemisphere. The more recent books have been published on Tuesdays in November.
The series follows the journey of Sophie Foster, who seems to be different from other humans. Not only is she a genius, but she also has an ability that no one else has: the ability to read minds. That is, that an ability she thinks no one else has. However, when she meets a cute, teal-eyed boy who tells her that she is not a human, but rather, an elf, her world turns upside down. This abnormal girl travels through a journey of pain, discovery, and love. The only question is, does she have what it takes to make it out of there alive?
As she pushes through the hardships that the Neverseen, a rebel group of elves, send her way, she meets new people, sees new things, and forms new heartfelt relationships. Her friends and family help her along her journey.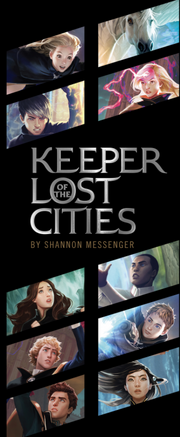 After manifesting five abilities throughout the course of the books, one might assume that she would easily be victorious. But the Neverseen always seems to be one step ahead. A witness to many kidnappings, and experiencing one herself, Sophie Foster thought she was prepared for everything. But with twists at every step, she questions if things could get any worse, which always seems to happen. Experiencing betrayals and losses that she never thought were possible, Sophie still pushes through the hardships.
With the help of her friends, family, and creators, the Black Swan, Sophie Foster pushes through each battle she faces. The question that spreads among the fans of the New York Times bestselling series is, who will emerge as the victor? The Moonlark and the Black Swan, or the forces of evil? Read through this thrilling, heart-stopping book series to find the answers!
Quotes
[
]
"We're spiraling toward war. And not an isolated battle. A global conflict involving every living being." - Legacy
"And I'm the only one with a plan," Fitz reminded them. "Hey- I've got plans," Keefe argued. "Plans that don't involve tormenting Dame Alina," Fitz clarified. "But those are always the best plans!" - Everblaze
"You'd be surprised at how powerful hope can be." - Exile
"Hey, all the cool kids are sleeping with stuffed animals these days." - Lodestar
"There's no reason to worry" - Alden Vacker
"You deprived me of the Snuggles—that cannot be forgiven!" - Keefe Sencen
"You kids..." - Mr. Forkle
"Sparkles make everything better!"- Biana Vacker
"The past is the only finite thing in this uncertain world, and in a way that is somewhat comforting." - Mr. Forkle
"It had been a long and difficult journey, but she finally knew where she belonged. Sophie Foster was going home." - Keeper of the Lost Cities
"Dude. You did NOT just insult the Hair." - Keefe Sencen
"We could all use a little more weird in our lives."- Fitz Vacker
"I'd be happy to help you break a few laws if you're feeling left out"- Keefe Sencen
"Woah- back the T-rex up!" -Keefe Sencen
"Hey, it's gonna be alright" -Sophie Foster, Neverseen
Gallery
[
]
References
[
]