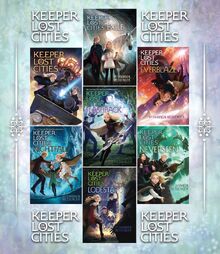 Keeper of the Lost Cities: A series written by Shannon Messenger that currently has seven books: Keeper, Exile, Everblaze, Neverseen, Lodestar, Nightfall, and Flashback. Two more are known to be in the makings. The series follows the journey of young Sophie Foster who is different from every other human. Not only is she a child genius, but she also has an ability that no one else has: the ability to read minds. That is, she thinks no one else has. When she meets the cute teal eyed boy who tells her that she is not a human, but rather an elf, her world turns upside down. The abnormal girl travels through a journey of pain, discovery, and love. The only question is, does she has what it takes to make it out of alive?
(See also: Book 8: Legacy, and Book 9: Unknown)
As she pushes through the hardships that the Neverseen send her way, she meets new people, see's new things, and even develops more intimate feelings for some of those close to her…
With five abilities, one would assume that she would be victorious. But the Neverseen always seem to be one step ahead. A witness to many kidnappings, and experiencing one herself, Sophie Foster thought she was prepared for everything. But with twists at every step, she questions if things could get any worse, which always seems to happen. Experiencing betrayals and loss that she never thought was possible, Sophie still pushes through the hardships.
With the help of her friends, family, and creators-- the Black Swan-- Sophie Foster pushes through each battle she faces. The question that spreads among the fans of the New York Times Bestselling series is, who will emerge victoriously? The Moonlark, or the forces of evil?