Jensi Babblos is a Level Four at Foxfire and one of Sophie's first friends there. He is an energetic boy who helped Sophie find her classes and invited Sophie to eat lunch with him and the Drooly Boys when Dex had detention. He reappeared in Lodestar when Sophie and her friends went back to Foxfire. In Exillium training, he was the only one other than Sophie and Magnate Leto to complete the challenge.
Appearance
Jensi is a short boy with a round face and messy brown hair.
Abilities
Jensi has yet to manifest. However, he hopes to be a Phaser, like his older brother, or a Charger. (as mentioned in Lodestar). He also states that Telepathy would be "AWESOME!"
Relationships
Jensi was one of Sophie's first friends, and the first person at Foxfire to approach her to be her friend. He helped her find her classes and invited her to eat lunch with him and his friends, including Valin.
We do not know much about their relationship, except that Marella does not want to be around his friend group.
Jensi is portrayed as having a crush on Biana, asking about where she is when she isn't present in the group and standing close to her when he can.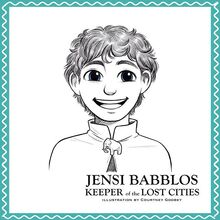 Theories
Some believe that Jensi's older brother is Blur because in Keeper of the Lost Cities, Jensi referred to his brother's interesting manifesting experience and the fact that he's a Phaser. In Nightfall, when water washes over him, Sophie says that he is shorter than she imagined with dark hair and that his features (full lips and a round face) seem familiar. Despite this, Blur refrained from revealing his identity, and so this theory is yet to be confirmed.
Community content is available under
CC-BY-SA
unless otherwise noted.