Jensi Babblos (JEN-see BAB-los) is a Level Four at Foxfire and one of Sophie's first friends there.
He is an energetic boy who helped Sophie find her classes and invited Sophie to eat lunch with him and the Drooly Boys when Dex had detention.
He reappeared in Lodestar when Sophie and her friends went back to Foxfire. In Exillium training, he was the only one other than Sophie and Magnate Leto to complete the challenge.
Jensi has an older brother, Fernan Babblos, who is a Phaser.
Appearance
[
]
Jensi is a short boy with a round face and curly brown hair. His eyes are described as true blue.
Abilities
[
]
Jensi has not yet manifested. However, he hopes he will be a Phaser, like his older brother, or a Charger. (as mentioned in Lodestar). He also stated that having Telepathy would be "AWESOME".
Relationships
[
]
Jensi was one of Sophie's first friends, and the first person at Foxfire to approach her to be her friend. He helped her find her classes and invited her to eat lunch with him and his friends, including Valin.
Jensi is portrayed as having a crush on Biana, asking about where she is when she isn't present in the group and standing close to her when he can. He also takes deep interest in Biana's ability when she manifests as a Vanisher, telling her how cool it is.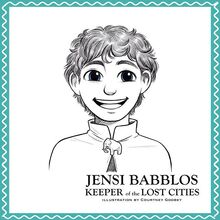 (friend/

possible love interest

)
Valin is part of the Drooly Boys with Jensi and seems to be his closest friend among them.
Jensi is part of the Drooly Boys (the Leader) who are a group of his friends, known for their greasy ponytails and drool.
Personality
[
]
Jensi is very hyper. He is quirky and kind. Jensi's personality has been described as him having a bucket of sugar every morning for breakfast. He is also generally curious, wanting to know all about Sophie. He is generous as well, allowing Sophie to sit at the Drooly Boys table when she had nowhere to sit.
Trivia
[
]
"Jensi" is a Hungarian name meaning, "born to nobility"[2]
Shannon Messenger Character Bio
[
]
Jensi Babblos is the coolest guy at school. He's still trying to make everyone realize that—not that he has any problem making friends! He has tons of friends. And he was practically the first person at Foxfire to meet the great Sophie Foster, even gave her a nickname and showed her how to find her sessions. He's also basically the leader of his usual group of dudes. And yes, he knows he has a tendency to talk a lot—but that's just because he has tons of super interesting things to say. Someday people will realize that! [3]
Quotes
[
]
"I'm Jensi–whoa–you have really weird eyes–cool–anyway–so–everyone wants to talk to you–but they're all afraid–so I decided to show them how it's done."
References
[
]