Keeper of the Lost Cities: Legacy is the eighth book in the Keeper of the Lost Cities series. It was announced by Shannon Messenger on May 22nd, 2018. The previous book is Flashback.
There is also a Barnes and Noble exclusive edition of Legacy, featuring illustrated end pages and a bonus chapter in Tam's perspective, which will answer one of the longest-standing questions from the series. It can be purchased from any book store.
On the cover are Sophie, Fitz and Keefe in London, in front of the Big Ben. It can be assumed that Sophie is using her inflicting ability.
Synopsis
'Illusions shatter—and Sophie and her friends face impossible choices—in this astonishing eighth book in the New York Times and the USA TODAY bestselling Keeper of the Lost Cities series.
Sophie Foster wants answers. But after a lifetime of lies, sometimes the truth is the most dangerous discovery. Even the smallest secret comes with terrifying new responsibilities  
And Sophie's not the only one with blank spots in her past, or mysteries surrounding her family. She and her friends are part of something much bigger than they imagined—and their roles have already been chosen for them.
Every clue drags them deeper into the conspiracy. Every memory forces them to question everything—especially one another. And the harder they fight, the more the lines blur between friend and enemy.
A short story from the perspective of Tam Song is included in the first edition of this book.
Rejected Titles
This is a list of some of the top rejected titles and why they were rejected. They were released on Shannon Messenger's Instagram on January 28-30.
Reason: There is a very famous movie of the same name, so Shannon Messenger and her editor thought that would be too confusing to have it called the same name. This rejected title suggests that we may be given information about Sophie's genetics.
Reason: She was worried readers would see the word "dead" and automatically assume someone dies in the book. Shannon Messenger won't say whether or not someone dies, but she didn't want anyone to assume that they did.
Reason: Shannon Messenger didn't think it felt right, and thought it wasn't exciting enough to do justice to the plot. Additionally, she noted that her readers would have a strong reaction to having the word "match" in it, even if she did like the clever play on words it created.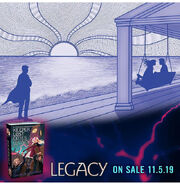 "The world isn't safe for sparkly flying horses."
"See why I didn't want to bring this up?" Keefe asked. "It's like, just when you think it can't possibly get any worse - it does!"
Dex scratched his chin. "Nah. Annoying you is way more fun."
Ro giggled. "The adorable obliviousness strikes again!"
"The Black Swan didn't make a gadget. They made a person. So they're going to have to deal with the fact that you have a mind of your own." 
"You're failing me with your human knowledge, Foster." 
"Sooooooooo, what you're saying is, you think I'm the king of bad decisions," Keefe said. 
Sophie leaned a little closer, telling herself to be brave as she reached up and smoothed the crinkle between Fitz's eyebrows with the tip of her finger. "Pretty sure I'll always need you," Sophie transmitted. 
"Fine," Stina said, tilting up her chin. "But if I turn out to be right, expect a lot of 'I told you so's." 
"But I am the moonlark. I was literally designed to be part of everything that's happening." 
"Uh, it's not like we've never done the News of Doom thing before." 
Her eyes narrowed at Sophie. "I'd be happy to spell it all out for you if you want. We could make a pros and cons list together!" 
"If something happens to you or your friends, you're going to have to live with it!" 
"Having a family crest meant a lot to a girl who'd been adopted." ― Shannon Messenger, Legacy 
Plot
Extra
On October 13th, 2020, the paperback edition of Legacy was released, which includes the Tam short story as well as an excerpt of Book 8.5: Unlocked.