Spoiler warning!
This article contains plot details from Unlocked.
Keeper of the Lost Cities: Unlocked is book 8.5 in the Keeper of the Lost Cities series. Shannon Messenger announced the release of the book on February 19, 2020. The previous book is Legacy, which released on November 5, 2019.
Shannon Messenger has announced that in the paperback edition of Unlocked, there will be a short story from Linh's point of view.
Click to see all of Unlocked's beautiful art!
Cover
The cover shows Sophie and Silveny teleporting through the void, with four places surrounding them (clockwise, starting with the top left): Havenfield, Eternalia, Foxfire, and Gildingham.
The cover of Unlocked was designed by Karin Paprocki and illustrated by Jason Chan. This is the first time that Sophie has been the sole Elvin character on the cover. Shannon Messenger said they wanted to let Sophie shine on the cover alone because Unlocked, as a continuation of the main series and a series guide/supplement, represents her journey so far. This scene is not actually in the book.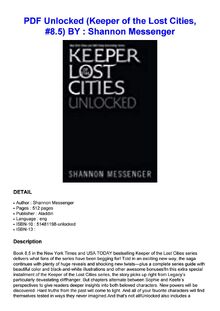 Sophie appears to be younger-looking on this cover than those of Flashback and Legacy. According to Shannon Messenger, it is to symbolise her entire journey.[1]
Synopsis [1]
After the battle in Loanmore, devastating discoveries have come to light, threatening to destroy everything Sophie has been fighting for.
Impossible choices lie ahead. So do necessary sacrifices–if Sophie and her friends are willing to make them...
Told through the perspectives of Sophie and Keefe, this chapter in the Keeper of the Lost Cities is packed full of hard truths, new powers, and game changing twists–and that's not all!
Unlocked offers a comprehensive guide to the words of the Lost Cities, including never seen before art, a map of the Lost Cities, characters and world details, activities, recipes, a coloring page and more!
Synopsis [2]
I n this extra special installment of the Keeper of the Lost Cities series, the story picks up right from Legacy's particularly devastating cliffhanger. But chapters alternate between Sophie and Keefe's perspectives to give readers deeper insights into both beloved characters. New powers will be discovered. Hard truths from the past will come to light. And all of your favorite characters will find themselves tested in ways they never imagined.
And that's not all!
Unlocked also includes a comprehensive guide to the world of the Lost Cities, featuring new character and world details that have never been revealed before—plus fun bonuses like Keeper-themed recipes, a detailed map of the Lost Cities, gorgeous full-color illustrations, and so much more!
Summary
Sophie and Oralie succeed in opening Oralie's cache and discover that Kenric washed some of her memories. The memory in the cache shows Oralie arguing with Kenric and attempting to get him to tell her about his work—something to do with "Elysian" and "Stellarlune." It also shows Kenric confessing his love to Oralie—but she did not remember this because he washed her memory. Kenric also appeared to know that Oralie was Sophie's biological mother, but did not tell Oralie or Sophie he knew. Sophie reveals to Oralie that the Neverseen still have Kenric's cache, and they have a newfound determination to retrieve it.
Keefe wakes up from his coma after four days asleep. It is revealed that his ability appears to be a Empath-Polyglot combination.He can also suddenly read everyone's emotions without contact and translate them rapidly, and Oralie can sense his emotions without contact. His new Polyglot ability further seems to have melded with his original Empath ability to give him the ability to manipulate others' emotions based on his voice. Sophie's emotions overwhelm him so much that he yells "NUMB," plunging everyone around him into a state of emotionlessness, until he yells "FEEL." Councillor Noland remarks that the manipulation seems tied to Keefe's tone of voice. Councillor Noland followed up with a speech about how Keefe's specific tone was how he numbed his friends. Keefe both decides to not speak and to stay away from Sophie. He is transferred to Splendor Plains for Elwin to care for him.

"Of course I'm overthinking—I could turn everyone into mindless murderers for my mommy if I don't figure out how to stop this!" -Keefe, Unlocked
At Splendor Plains, Elwin and Keefe share a few nice, almost fatherly moments. Keefe requests that Dex be summoned to help—secretly wanting him to make him an ability restrictor. Dex refuses to make an ability restrictor, but agrees to work on gadgets to help Keefe control his ability. Ro and Dex encourage him and try to get him to speak, but he still refuses. Eventually, Keefe convinces Dex to "think about it," and decides that if he cannot get Dex to make him an ability restrictor, he will use his new ability to force him.
After talking to Edaline (who reassures her that she loves her and encourages her), Sophie decides to search Candleshade for clues and Alvar. There, she runs into Fitz. Lord Cassius is also there, and he reveals that he is working on an assignment from the Black Swan and says that he does not think Lady Gisela has a second ability. He then runs off mysteriously. Fitz and Sophie talk; they say they miss each other and make up. Fitz also promises to keep his anger directed at Alvar. Finally, he suggests talking to Glimmer about the location of Kenric's cache and tells Sophie she should talk things out with Keefe. They plan to meet up the next day to talk to Glimmer.
Sophie forgives Keefe for pushing her away, but Keefe still insists on staying away from Sophie—at least in person. Sophie mentions that they're looking for Kenric's cache, and Keefe still feels remorse about it.
Kesler, Lex, Bex, Rex, and Dex come to Splendor Plains. The triplets frustrate Keefe intentionally, triggering his ability, and Dex experiments with gadgets attempting to contain it. None of them work. Bex mentions her crush on Keefe, which Lex and Rex proceed to tease her about afterwards. Keefe also notices that when he touches Lex's hand, it feels like ice; when he touches Bex's hand, it feels squishy; and when he touches Rex's hand, it felt empty. After Kesler put his arm around Keefe's shoulder, Keefe again feels this strange "empty" feeling, possibly meaning Rex will be Talentless.
Biana, Fitz, and Sophie go to talk to Glimmer, who is being guarded by Bo. Their strategy is to treat her as an equal and an ally. Glimmer is hostile, having already been barraged with questions she doesn't know the answers to many times. But after they tell her about the cache, Glimmer remembers a Neverseen storehouse that was connected to the Lodestar symbol and suspects it might be there. She says that she will tell them where to go, but only if they take her with them.
The Triplets' Manifesting
Keefe's predictions come true when Bex manifests as as a Phaser and Lex as a Froster. Keefe tells Dex about his findings (after Dex realized Keefe's ability wouldn't work over Imparter) and subsequent suspicions that Rex is Talentless. This is a huge blow to Dex; Rex is already under great ridicule for being a multiple birth and son of a bad match, so being Talentless would add even more. Dex decides to keep the news to himself, fearing Rex and Kesler's reactions.
After some deliberation, the adults allow Sophie, Tam, Glimmer, Flori, and Bo to go to the storehouse for fifteen minutes. Glimmer uses a hairpin she stole from Gisela (after she threw it away) to teleport them there. They gather as many items as they can, including Kenric's cache and some of Glimmer's old items. Glimmer berates Sophie for being willing to just leave, saying that their weakness is why the Neverseen always wins. In a deciding moment, Sophie sets the storehouse on fire and scratches a flying moonlark into the dirt, wanting the Neverseen to know who did it. The Archetype is one thing she burns in the fire.
The majority of people are very angry with Sophie for burning the storehouse. Glimmer, however, is pleased, and Mr. Forkle is proud of her, saying she's becoming the leader he always knew she would. He does point out how she could have handled it better. Sophie feels that it is one of the best decisions she has ever made, taking the power back from the Neverseen and into her hands. Tiergan points out that she has started a war, but she argues that the Neverseen started the war—and that she has chosen to win a battle.
Keefe decides that he is a danger. He knocks out Ro with his new ability, leaves Sophie a letter saying goodbye, and runs away to hide in the Forbidden Cities. He also dyes Iggy before he leaves. Grady catches him leaving the letter and tries to convince him to stay, saying Sophie needs him. Eventually, however, he decides to let him go, but gives him a secret Imparter in case Grady needs to hail Keefe. He does not tell Sophie about the Imparter, however.

Extras
Besides the story, several other things were released in this book, including:
Full-color art
A series of full-color illustrations based on scenes from the previous Keeper of the Lost Cities books (one from each book)
Black-and-white illustrations
Keeper of the Lost Cities recipes - which can be also found on her website
A series guide about the characters and world
The inside cover of the book features an official map of the Lost Cities drawn by Francesca Baerald.
A black-and-white coloring page of Iggy the Imp
A short story from Linh's POV (only included in the paperback edition)
References