Keeper of the Lost Cities: Unlocked
is book 8.5 in the 
Keeper of the Lost Cities
series. It was announced by
Shannon Messenger
on February 19, 2020. The previous book is 
Legacy
,
which was released on November 5, 2019.
Unlocked is currently scheduled to be released on November 17th, 2020 (USA).
Shannon Messenger finished writing Unlocked on September 12.
She began the signing on September 13th.
Unlocked will be told from both Keefe and Sophie's perspectives, which has never been done before in the series.
Unlocked will pick up right where Legacy left off.
A preview of Unlocked will be released with the paperback version of Legacy on October 13, 2020 (In the USA)
It is confirmed that Iggy will be mermaid color with stripes, which won in a vote. Iggy will be more colors and patterns than just that.
On Shannon Messenger's website, it is said that new powers will be discovered within the book. It is unknown who these powers belong to, though it is most likely Keefe.
The cover shows Sophie and Silveny teleporting through the void, with four places surrounding them (clockwise, starting with the top left): Havenfield, Eternalia, Foxfire, and Gildingham.
The cover of
Unlocked
was designed by Karin Paprocki and illustrated by
Jason Chan
. This is the first time that
Sophie
has been the sole
Elvin
character on the cover:
Keeper of the Lost Cities
had
Dex
,
Exile
had
Keefe
,
Everblaze
had
Fitz
,
Neverseen
had
Biana
and
Keefe
,
Lodestar
had
Fitz
and
Tam
,
Nightfall
had
Keefe
and
Linh
,
Flashback
had
Tam
and
Wylie
, and
Legacy
had
Keefe
and
Fitz
.
Shannon Messenger
states that the reason for this is because "Unlocked" is both a continuation of the main story from
Legacy
and a super-fun series guide. Though it is unclear why the author did not make this book at the end of the series."
[1]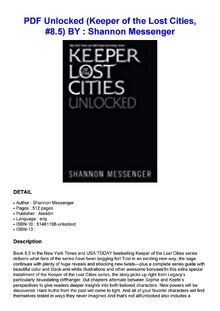 Another thing to note would be that Sophie is a bit younger than how she looks on the covers of
Flashback
and
Legacy
. According to Shannon Messenger's post, it is to symbolize her entire journey.
[1]
Synopsis
Edit
In this extra-special installment of the Keeper of the Lost Cities series, the story picks up right from Legacy's devastating cliffhanger. But chapters alternate between Sophie and Keefe's perspectives to give readers deeper insights into both beloved characters. New powers will be discovered. Hard truths from the past will come to light. And all of your favorite characters will find themselves tested in ways they never imagined.
And that's not all!
Unlocked also includes a comprehensive guide to the world of the Lost Cities, featuring new characters and world details that have never been revealed before—plus fun bonuses like Keeper-themed recipes, a detailed map of the Lost Cities, gorgeous full-color illustrations, and so much more!![3]
(As written on Shannon Messenger's website)
(The following excerpt was released on October 2, 2020, on Shannon Messenger's Instagram)
Oralie leaned closer, her breath clouding the crystal as she whispered, "Fathdon."
Sophie realized that was Councillor Kenric's last name the same moment the cache flared glaringly bright and she found herself squinting right at him- or rather, squinting at a small projection of him that was hovering above the glowing orb like a tiny Kenric apparition. A projection of Oralie stood facing him, both of them silhouetted in moonlight, wearing long silver capes with hoods covering their circlets.
"I knew Kenric would be a part of this," the real Oralie murmured. "He always insisted on being involved in everything I did."
"But he doesn't look happy about it," Sophie noted. 
The full chapter 1 can be seen at  
https://www.youtube.com/watch?v=je11_UFXxtU   
Besides the story, several other things will be released in this book, including:
There will be a series of full-color illustrations based on scenes from the previous Keeper of the Lost Cities books (one from each book)
Black-and-white illustrations
Keeper of the Lost Cities recipes - which can be also found on her website
An official map of the Lost Cities
A series guide about the characters and world (including never before revealed details)
The inside cover of the book will feature an illustration drawn by Shannon Messenger.
Stay tuned on events on Shannon Messenger's website,
https://shannonmessenger.com
References
Edit
Community content is available under
CC-BY-SA
unless otherwise noted.