This is a page for those who may ship this. Rude or hurtful comments/edits will not be tolerated and will be monitored by admins. Positive reactions only; anything negative will be edited out, deleted, or reverted.
"Sophie studied Dex a second longer and was about to reach for his hand—but Biana beat her to it, making Dex jump a little as their fingers twined together."
—Narrator, in Book 8: Legacy


Diana/Bex is the romantic/friendship pairing of Biana Vacker and Dexter Dizznee. At first, Dex despises the entire Vacker family, and only completely comes to accept them in Neverseen, when he apologizes. Later, both Biana and Dex do not show any feelings toward each other than friendship. It seems unlikely for this ship to sail, but it may happen if the crushes of these characters either get larger with somebody else or reject them. Currently, the relationship is just friends.
Both have shown stronger romantic feelings for other characters, Biana for Keefe and Dex for Sophie, until later books when moments between the pairs become less frequent. In Book 5: Lodestar, there were many moments that hinted at a possible relationship between the two, but up until that point, there seemed that neither held romantic feelings for the other. It had also been hinted that the feelings between Tam and Biana might be canon, possibly having another love triangle for the three. As of Legacy, the two have shown stronger feelings for each other that could possibly hint at romance.
Pairing Names
Edit
Diana (D/ex and B/iana)
Bex (B/iana and D/ex)
Dexiana (Dex/ter and B/iana)
Bianex (Bian/a and D/ex)
Deana (De/x and Bi/ana)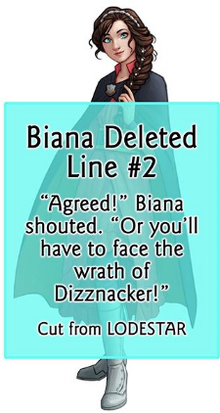 As a way to comfort Sophie, Dex states that Biana is probably jealous of Sophie because she is no longer the prettiest girl in school. This means that Dex thought of Biana as the prettiest girl in school before meeting Sophie, even though it might also mean that Dex thinks Sophie is the prettiest, no matter what.
Biana and Dex hang out in the boys' treehouse and don't seem very uncomfortable about it, unlike with Dex and Fitz.
Similarities and Differences
Edit
Similarities:
Edit
Differences:
Edit
Community content is available under
CC-BY-SA
unless otherwise noted.