This is a page for those who may ship this. Rude or hurtful comments/edits will not be tolerated and will be monitored by admins. Positive reactions only; anything negative will be edited out, deleted, or reverted.
"Sophie studied Dex a second longer and was about to reach for his hand—but Biana beat her to it, making Dex jump a little as their fingers twined together."
—Narrator, in Legacy

Diana/Bex is the romantic friendship pairing of Biana Vacker and Dexter Dizznee. At first, Dex dislikes the entire Vacker family, and only completely comes to accept them in Neverseen, when he apologizes. They currently remain friends, with no confirmed romantic interest from either Biana or Dex, although Biana and Dex spent a lot of time together when Fitz and Sophie wouldn't include them.
Both have shown stronger romantic feelings for other characters, Biana for Keefe and Dex for Sophie, until later books when moments between the pairs become less frequent. It had also been hinted that the feelings between Tam and Biana might be canon, possibly leading to another love triangle between the three. As of Legacy, the two have shown stronger feelings for each other that could possibly hint at a future relationship.
Diana (Dex and Biana)
Dexiana (Dex and Biana)
Bex (Biana and Dex)
Bianex (Biana and Dex)
Deana (Dex and Biana)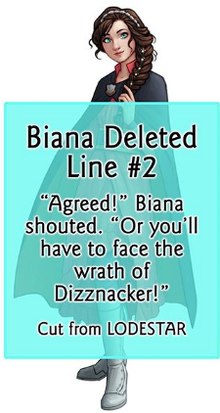 As a way to comfort Sophie, Dex states that Biana is probably jealous of Sophie because she is no longer the prettiest girl in school. This means that Dex thought of Biana as the prettiest girl in school before meeting Sophie, even though it might also mean that Dex thinks Sophie is the prettiest, no matter what. (Pg. 205)
Biana and Dex hang out in the boys' treehouse and don't seem very uncomfortable about it, unlike with Dex and Fitz.
They become better friends.
Biana tells Dex she isn't going to ever take off the panic switch ring he gave her as a gift he made being a technopath. (Pg. 12)
Biana is introduced to Dex's family when she arrives at their home for a sleepover, and at first, Kesler is skeptical, but later questions his false opinion of Biana when she is excited to see Sophie's Imp, Iggy. Later, Juline seems to like Biana when she comes to sleepover at Rimeshire.
When Biana and the others find out that in Level 1, and possibly Level 2, Dex ate his lunch during class, she says that she was stupid back then and blushes. This implies that maybe if she could go back, she would have eaten lunch with him.
Dex becomes bright red when she gets excited about him.
Dex said he liked Biana more than his siblings. 
Biana put Dex's sleeping bag next to her's.
Biana chose to work with Dex while trying to read the scrolls.
Biana said Dex looked awesome.
Biana asks Dex if he is going to register for the match list, and sounds disappointed when Dex says he may not. This indicates that Biana would like to be on Dex's match list.
Dex chases after Sophie and Fitz, not wanting to be alone with Tam and Biana after they haven't seen each other in a while.
Dex and Biana spend a lot of time together since Tam and Linh are with the Black Swan and Fitz and Sophie are training or talking with Keefe.
Biana pulls Dex into the group hug, when Sophie and Fitz are about to follow the starstone hairpin, and makes sure to include him.
It is said that Biana "leaned on Dex as she looked at Fitz's bleeding knuckles."
Biana takes Dex's hand after he is unsure whether he wants to go into the cave where he and Sophie were kidnapped and Dex jumped and blushed when she did.
Dex and Biana were still holding hands in the cave
When Biana noticed that Dex stayed behind to talk to Sophie, she frowned and stayed for a long time.
Just before they were about to go into the King's Path, it is said that Biana was already clinging to Dex.
While Team Valiant was still deciding on their name, Dex and Biana were friendlily teasing each other and potentially flirting about the possible names. (Pg. 143 and pg. 149)
Biana and Dex both agreed that they were often left out of the group. (Pg. 147)
Biana gave Dex a big pep talk and told him how much she believed in him when he doubted his abilities as a Technopath.
Similarities and Differences
[
edit
|
edit source
]
Community content is available under
CC-BY-SA
unless otherwise noted.