This is a page for those who may ship this. Rude or hurtful comments/edits will not be tolerated and will be monitored by admins. Positive reactions only; anything negative will be edited out, deleted, or reverted.
Spoiler warning!
This article contains plot details from the latest book.
Aldella, or Dellden, is the romantic pairing of Alden Vacker and Della Vacker. Della and Alden are married with three children; Alvar, Fitz and Biana. They care for each other deeply and rely on each other through hardships. When Alden's mind broke in Book 2, Della was devastated by his loss. It is unknown how the two of them have coped with the betrayal of Alvar in Book 4.
Similarities and Differences
[
]
 Similarities
They both graduated from Foxfire.
They both live at Everglen.
They are both elves.
They both have brown hair.
They love Sophie like a daughter.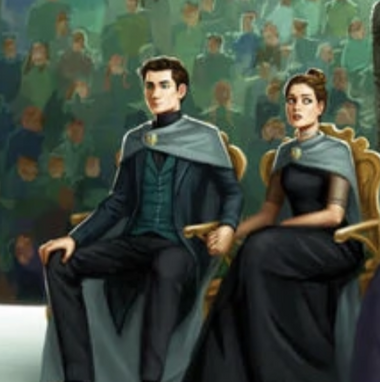 Differences
Della was friends with everyone at her Winnowing Gala, and it was not mentioned in the books if Alden was or was not.
Della is a member of The Black Swan, while Alden is not.
Alden is more than 100 years older than Della.
Alden has teal eyes, while Della's are cobalt blue.
Quotes
[
]
"He'd met my mom and wanted to impress her." "So he built her a palace?""
Trivia
[
]