Just kidding. :)
Welcome back to a beautiful reprise of #29, where we may or may not continue wildly screaming like a bunch of bizarre aquatic birds civilly singing Hamilton.
Important message of the week: If you value your neck, hold onto it! (and by that, I mean "avoid creepy 16th-century English kings who enjoy decapitating the people close to them!" oops we should be talking about George III, not Henry VIII - this is Hamilton, not Six)
That's all.
yOu'LL bE bAcK, sOoN yOu'LL sEeEEeEeEeEE...
The Strange Ducks
Join the Strange Ducks today! All you have to do is message a captain or the forum to request joining, and tell me that you are weird. NO NORMAL PEOPLE ALLOWED!!!! If you are the slightest bit weird, please join! Additionally, please join our wiki!
---
The Duckish Badge Of Honor
By having this badge on your profile, you are an official duck! If you aren't a certified duckko, you'll immediately be asked to remove it until further notice. We highly encourage every single duck to add this to their duckity duckish profile! It is a badge of honor, being one of us! For to adventure! 'Cause we're on the edge of the duckity duck greatness! Turning humans to ducks! We must be weird! We must be strong! We must be amazing! And most of all, we must all get together and be as one! Be as the duckish society of amazingness!
---
Rules And Information
Rules:
1. You must be weird, obviously.
2. You have to message a captain or the forum to join, and we'll put you on here! (our previous forums: 1, 2, 3, 4, 5, 6, 7, 8, 9, 10, 11, 12, 13, 14, 15, 16, 17, 18, 19, 20, 21, 22, 23, 24, 25, 26, 27, 28, 29)
3. You must have a username/signature
4. You must give a captain an example of how you are weird. This example must have occurred within the past month.
5. In addition to existing as an exceptionally bizarre aquatic bird, you must pledge to be respectful and supportive of all users, and refrain from hostility of any sort.
6. Follow the KotLC Wiki Policies and Guidelines
7. Due to multiple unfortunate events, the limit of <big> tags is 18. Do not, under any circumstances (unless given explicit permission by both Cress and Charlotte, and no one else) exceed this limit.
8. It is strongly recommended that wikians diagnosed with anatidaephobia (noun; the irrational fear that somewhere, a duck or goose is watching you) do not join this club, as members will have many ducks stalking them. However, joining this club may be a way to get over your fear of stalkery waterfowl. Your call.
9. You must be a captain to edit this template or make ducky threads.
10. OPTIONAL: it is suggested for you to put something, doesn't matter if it's small or large, on your profile indicating that you are a part of this, but if you do not have an account, this rule does not apply to you.
You do not have to have an account. You can join without an account, but you have to have something that we can call you. MagicDaydreamer does not have an account, but they calls themself MagicDaydreamer, so they're one of the founders. Welp... now they have an account, but you still don't need an account to join...!
Information:
This club was founded by the users Charlotte O CATS KOTLC and MagicDaydreamer. Its approval link can be found [1].
We elect one captain whenever one is needed. Captains are to be as weird as possible, as well as recruit members to our club(/cult). Captains and wiki administrators are the only ones allowed to edit this Strange Ducks badge.
---
Members
Members: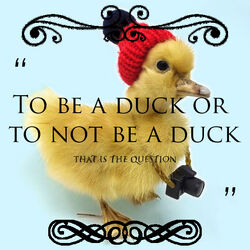 Char's Annoying Internet Connection That Often Doubles Things
---
DuckDaily
~~Ducking for ducks since the moment we first ducked out of the sky~~
A ducky newspaper
WE ARE THE STRANGE DUCKS add more plsssssssssss also i'm testing some stuff

Our previous forums:
Archive #1, Archive #2, Archive #3, Archive #4, Archive #5, Archive #6, Archive #7, Archive #8, Archive #9, Archive #10, Archive #11, Archive #12, Archive #13, Archive #14, Archive #15, Archive #16, Archive #17, Archive #18, Archive #19, Archive #20, Archive #21, Archive #22, Archive #23, Archive #24, Archive #25, Archive #26, Archive #27, Archive #28, Archive #29
Rules On Writing Articles
You must be a duck
You must contact a captain
You must have your article approved by said captain
You must give said captain a rundown of what the article to be about
You must remember that your article may be taken down even if approved (for various reasons)
You must follow the rest of the duck rules
Article Format:
<div style="text-align: left">
=== Article Name With Proper Capitalization ===
Article data here
<small><center>Article by [[User:yourusernamehere|<font color=#61835B>yournamehere</font>]]</center></small>
</div>
BREAKING NEWS: DUCKS RECOGNIZE A FRAUD IN PHOTOSHOP!
These extremely bizarre ducks are a very large family living in a marshy area of the Lost Cities Keeper forum--The Swamp of Clubs. They've been stampeding and hurting anyone in sight, but they've recently proved their worth as PHOTOSHOP LIE DETECTORS!!! Recently, their leaders have been given a seat on the UN! Will these ducks take over the world? To see more, head over to article 8.
honestly idk what to put here -charlotte
The Keepers of the Lost Ducks
Ducks trapped within fire--your daily comic

These Ducks Are Never Seen
Ducks Find a Lodestar Leading to Secret Ducky Swamps!
When Night Falls, the Ducks Attack!
A Flashback to When Duck Society Was Young
As I'm currently writing this, the Strange Ducks has around 60 members. Wow! I'm honestly surprised and happy at how far the Ducks have come! I joined wiki in late December, and discovered the Strange Ducks through comments on the LGBTQ+ Keeper page. At the time, MagicDaydreamer didn't have an account, and I was worried she wouldn't see my message if I left it on her FANDOM User wall, so I asked Charlotte instead. Since then, I've been so happy and excited to see MagicDaydreamer get an account, people join the strange ducks, and being the first captain.
While the Strange Ducks is mostly for fun, I've made everlasting friendships through it. I can finally connect with people like me, and who accept me for being me! I can rant about things that I do, and why I'm such a weirdo, and everyone accepts me for who I am.
Thank you for everyone who joined the strange ducks! I can safely say it's been a wonderful experience, and I hope that if you read this and you aren't already a duck, you should totally be one!
Written by Z the Galaxy, one of the first members of the ducks and first captain.
Ducks: The Legacy of the Aquatic Cult
</div
Join the Strange Ducks
As I write this, the Strange Ducks have nearly 100 members. I can't wait until duck society has enough members to form a ducky city. Cress and Charlotte have announced the recruiting of more Strange Duckies. If you are qualified to recruit more duckies, I wish you all luck. The Strange Ducks have come a long way since they were started. We have 96 members so far. We only need four more. Good Luck Strange Ducks!! Hey, that rhymed!
Written by Mai, 82nd member of the Strange Ducks
---

✯To add this onto a page, simply type {{StrangeDucks}} into the source code✯